Quick FAQs
Your floor should be maintained on a regular basis by vacuuming and cleaning in the following manner.

More info

All concrete naturally has holes that can also be heightened in the grinding process. Not all floors require grouting. It is the client's decision as to which "look" they desire and if a smoother look is required, grouting takes place to even up the floor.

A structural slab and topping slab or screed should be reinforced but even with these measures there is no guarantee that the concrete will not crack. If your foundations move the slab will move which may cause cracking.

Yes you can but this can be tricky as it is necessary that the beads etc are at the right depth in the concrete to allow correct exposure on grinding. Together with your imagination and our technical advice we can aim to achieve the best finish possible.

Yes, but it can be expensive and a lot depends on how well the steps have been formed. If it is not too late contact us before your concrete is poured. "Call before you pour". If you stairs are already in place contact us and we can advise further.

Yes, but it is best to leave fine cracks for a couple of years as there may be a chance the cracks will close again with movement.
Case Studies
FULL EXPOSURE - CCC POLISHED CONCRETE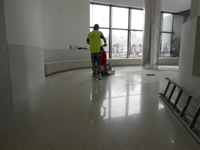 CCC Polished Concrete - Full exposure
Recent Projects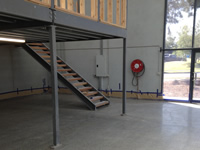 Random Finish – Polished Concrete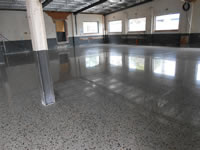 Full Exposure - CCC Polished Concrete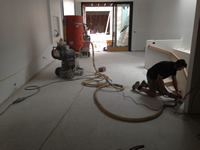 Very Light Random Finish – Polished Concrete
CCC Newsletter
Subscribe to our newsletter