Quick FAQs
We usually would carry out a preliminary grind (Stage 1) approximately 5 – 10 days after the slab has been poured and grind to the required exposure.

More info

Regular contact should be made between the builder or owner/builder and the concrete polisher to ensure polishing can commence and be completed at the right stages of the project.

This depends on a number of factors, firstly how big the job is, how accessible the site is, and what

finish

you have selected. i.e. CCC Polished  Concrete or Grind and Seal.

The best time for us is usually about 1 week after the pour, I will inspect the floor and advise the best result for you.

A concrete floor though very hard and durable is not completely invincible. A floor can be damaged, for example, should someone hit the floor with a chisel. Sometimes, particularly if a slab was poured incorrectly with too wet a mix, a piece of aggregate (small stone) may become dislodged from the finished surface after a certain amount of time.

More info

Your floor should be maintained on a regular basis by vacuuming and cleaning in the following manner.

More info

About a week to 10 days after the slab is poured.
Case Studies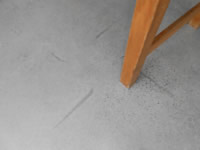 Helicopter and Screed Marks - Nil or Light Exposure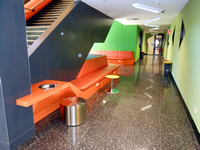 CCC Newsletter
Subscribe to our newsletter