Quick FAQs
CCC Polished Concrete is a top of the range method for finishing concrete floors.

More info

Yes we can however there are several technical issues that will need to be addressed between the concreter, plumber and water proofing professional. There are also some serious longevity issues that may occur. Please contact us for more info.

Yes, but it can be expensive and a lot depends on how well the steps have been formed. If it is not too late contact us before your concrete is poured. "Call before you pour". If you stairs are already in place contact us and we can advise further.

Smooth objects and/or objects that sit on the top of a slab might become dislodged from a polished floor leaving a hole.

More info

Regular contact should be made between the builder or owner/builder and the concrete polisher to ensure polishing can commence and be completed at the right stages of the project.
Case Studies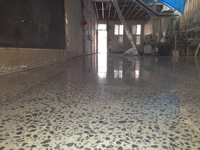 WAREHOUSE - RANDOM EXPOSURE - CCC POLISHED CONCRETE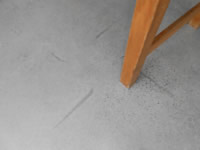 Helicopter and Screed Marks - Nil or Light Exposure
CCC Newsletter
Subscribe to our newsletter