Quick FAQs
Yes, we can polish existing slabs. Please refer to our Warehouse Exposure section on the website or visit our showroom where we can show you an example of an existing slab that has been polished.

No, polished concrete is the ultimate finish for in slab heating.

More info

Colours are added by the concrete supplier and are in the mix before the concrete sets.

Your floor should be maintained on a regular basis by vacuuming and cleaning in the following manner: To bucket of warm water, add recommended amount of "Tough Green" Cleaner (or low ph cleaner), and mop floor with a microfibre mop.

More info

The end result of a polished concrete floor is determined by the skill and experience of your Concrete Polisher. Here at CCC polished concrete we believe that a minimum of 4 years experience is required. Our team consists of experienced, passionate polishing specialists.

Color can be added to your mix at the time of pouring, this needs to be discussed with your concrete supplier. Ask your supplier for there color range and we recommend that you double the strength to allow for some fading.

The best time for us is usually about 1 week after the pour, I will inspect the floor and advise the best result for you.
Case Studies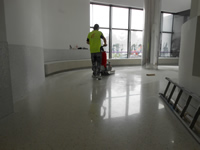 CCC Polished Concrete - Full exposure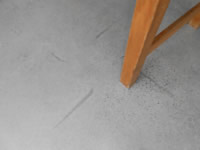 Helicopter and Screed Marks - Nil or Light Exposure
CCC Newsletter
Subscribe to our newsletter