Quick FAQs
No, the aggregate varies depending on whether it is, for example, white pebble or granite based. There are also different qualities. A visit to our showroom will show you the differences.

The end result of a polished concrete floor is determined by the skill and experience of your Concrete Polisher. Here at CCC polished concrete we believe that a minimum of 4 years experience is required. Our team consists of experienced, passionate polishing specialists.

Wipe as soon as possible with a damp cloth.

Depending on where you live in the country, particularly in southern states heating would probably be preferred and radiates a lovely warmth. In warmer states and in summer down in the southern states nothing is cooler.

More info

This is an endless choice that is only limited by your imagination. There are numerous mixes available though your concrete supplier but it must be though out well before the pour takes place.

Yes, but it can be expensive and a lot depends on how well the steps have been formed. If it is not too late contact us before your concrete is poured. "Call before you pour". If you stairs are already in place contact us and we can advise further.
Case Studies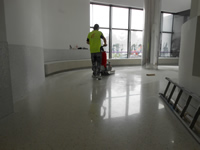 CCC Polished Concrete - Full exposure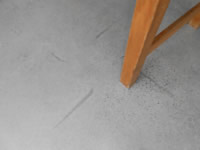 Helicopter and Screed Marks - Nil or Light Exposure
CCC Newsletter
Subscribe to our newsletter