To achieve a quality polished concrete floor with exacting levels of exposure and finish required takes a high level of pre-preparation and communication between a number of contractors.
Whenever planning a new floor the Property Owner, Architect, Builder, Concrete Mix Supplier, Slab Concretor, Floor Polisher and where applicable the Hydronic Heating installer all need to communicate before the slab is poured.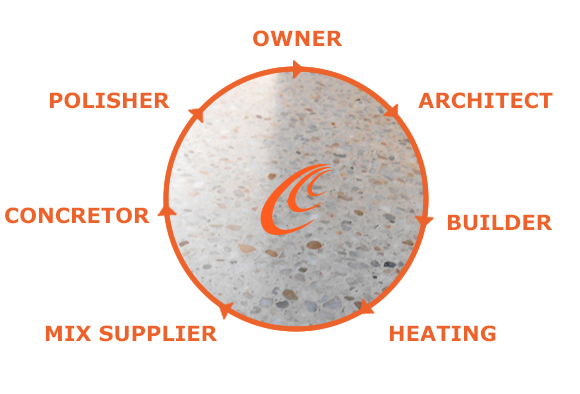 The owner and/or architect initially need to decide on the desired concrete mix colour, the level of exposure, the type of finish to be achieved in the final floor and whether hydronic heating will be installed in the floor.
Once these decisions have been made the polished concrete floor circle of trust can be co-ordinated to facilitate a trouble free concrete pouring and polishing procedure and ensure a quality finish that meets the original expectations.
It is critical that pre-preperation is completed well in advance of slab pouring as it can be expensive to make changes to a job after the fact particularly if something has gone awry because of issues with the concrete mix or the method of pouring and trowelling the slab etc.
To help owners, architects and concrete contractors do their homework we have established our polished concrete showroom where our experienced staff can explain pre-preparation requirements anout outline the differences between concrete floors.
Visitors to our showroom can view finished polished concrete surfaces from various aggregate and coloured concrete mixes. If requested we can also suggest experienced slab and heating contractors and mix suppliers to help with the initial set up of the polished concrete floor circle of trust to ensure that everything runs smoothly.
We can also offer advice to contractors, builders and architects before pouring in how to best prepare a slab suitable for concrete polishing.
As proponents of the wonder of polished concrete we have also poured much information into this website and will continue to build the knowledgebase so that polished concrete floor projects can be improved across the industry.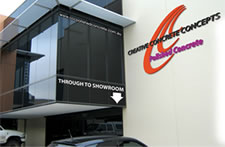 Visit the CCC Polished Concrete Showroom
18/51-55 Centre Way, Croydon South
Monday to Friday 8am to 5pm.
Saturday (and A/H) by appointment only.
Phone: 03 9761 5233 or email This email address is being protected from spambots. You need JavaScript enabled to view it.